The ReSource Exchange is a business to business marketplace aimed at connecting food waste, by-products/co-products to new uses and opportunities.
ReSource Exchange is an initiative of Our Food Future, Guelph and Wellington County's Smart Cities initiative aimed at creating Canada's first circular food economy. To do this, we need to find ways for food projects currently considered waste to be re-captured, upcycled and revalorized elsewhere in the food system.
At ReSource Exchange we're asking every organization across the food supply chain to identify and post the products they regularly treat as end of life, so we can help them maximize the economic, environmental and social value of those resources.
This could include everything from:
Below grade fruit or vegetables

Non-consumable animal products (e.g. bones, manure)

Past date dairy, baked goods or meats

By/Co-products that are typically sent to landfill/compost or down the drain (e.g. spent brewery grain, coffee grounds)

Restaurant scraps or leftovers (e.g. potato peels, citrus peels)

Almost anything else!
The ReSource Exchange platform and associated B2B Connector Programs aim to build sustainable long-term business collaborations - where the waste stream of one activity is the valued input for another.
How does ReSource Exchange help create a circular food economy?
In Canada, over 60 per cent of food produced every year is wasted. At a global level the food system is responsible for 26% of global CO2 emissions. Our existing linear food production, consumption and disposal systems are inefficient and wasteful.
There is tremendous potential for innovation and fresh thinking to capture food resources currently treated as waste, and maximize the value - helping reduce waste, while growing our economy and creating jobs.
To do this, we feed need to know the end-of-life food products currently produced across our region. From there we can begin building b2b connections, launching innovation challenges and creating circular loops that turn waste streams into value streams.
How can food waste or co/by-products be revalued, and what do circular collaborations look like?
Our goal is to maximize the value generated by food products. Using the inverted pyramid approach, this typically beings with identifying opportunities for reuse, including consumption by humans or livestock. For inedible foods, there are an abundance of potential industrial uses from biofuels to new materials. As a last option, composting allows for nutrients to be captured and returned to the soil producing significantly lower green-house gas emissions than if the food product rots in a landfill.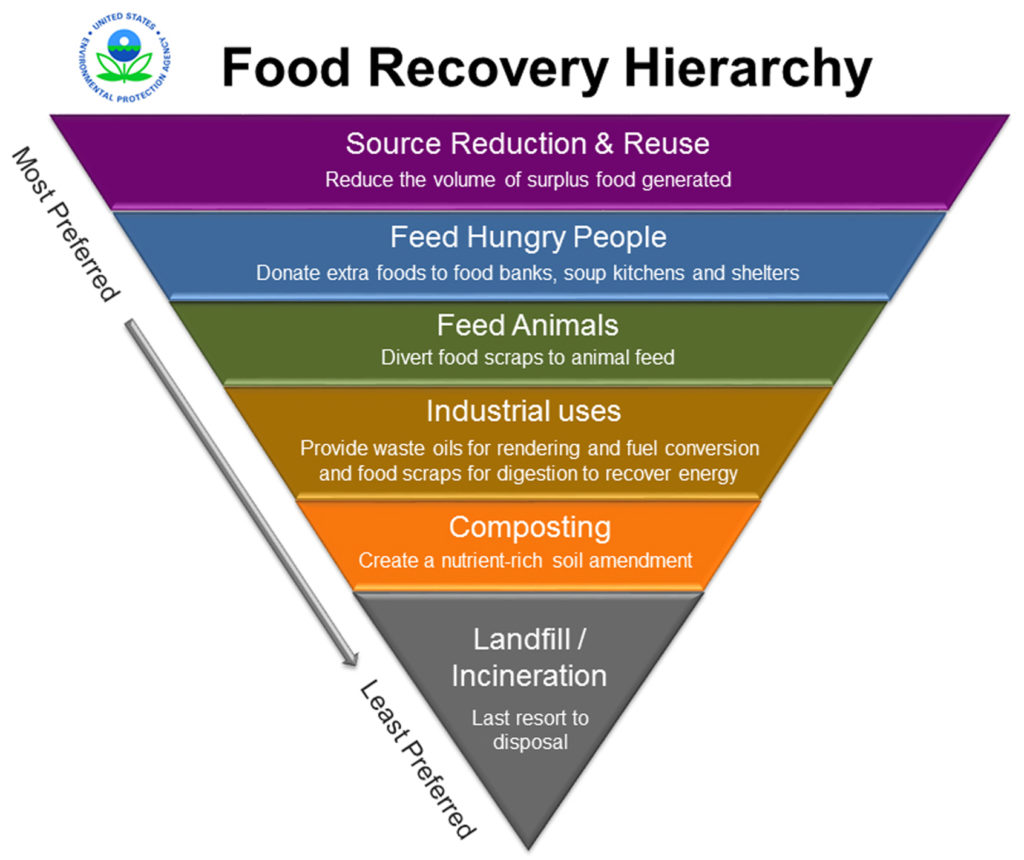 Here are some examples of circular business collaborations incubated in Guelph-Wellington through Our Food Future:
Circular Meal Experience - connecting six companies to create Canada's first fully circular gourmet meal
40 Circular Businesses

- In summer 2020, Innovation Guelph funded the launch of 40 circular businesses - including start ups and existing

business

es pivoting to more sustainable approaches.